Beautiful You™ Collection
is rated out of
5
by
4005
.
Rated

5

out of

5
by
Anonymous
from
nice colours
overall i am enjoying these products. i do wish there was more of an array of colours for the actual foundation. i ended up purchasing both light and medium to mix together. the lip blush is very fun - i like you can put on a light coat and it looks very natural. Damsel is actually my favourite applied with a very light hand. I find with the foundation, you need to make sure your skin is very moisturized, because while it is creamy, if you have a tendency toward dry skin, it'll crack a bit on you over the course of the day. The mascara is definitely one of the best I've ever used. Great products, very glad to have bought them.
Date published: 2016-06-09
Rated

5

out of

5
by
Anonymous
from
The Best Foundation Ever!
I love skin care products and have forever been in search of the perfect foundation With no luck. However I have found IT! I had been using the CC cream version initially but nothing beats the Bye Bye Foundation and Bye Bye Eye Concealer. IT stays put, protects my skin from the sun and looks fabulously natural while just making my skin look, well, fabulous. My face feels makeup free. Even if I forget to wash my face at night which is a big no no IT still looks great when I wake up. Amazing! The only thing I wish they had was a color in between medium and tan and use both. Try IT!! You will love IT.
Date published: 2016-04-21
Rated

5

out of

5
by
Anonymous
from
7 piece kit
I love,love,love this stuff.8 months ago I was diagnosed with cervical cancer and pretty much gave up on everything for a while.I stopped wearing makeup because after I had my treatments I felt like the cryptkeeper on the inside,you know dead,and I started feeling that way about the outside so I figured why bother?So months after my treatments stopped I saw Jamie on the Bye Bye Foundation commercial and I thought since I cant feel better on the inside I'll try on the outside.I got my first 7 piece kit and have been in love ever since.Everything that I have bought so far has been fantastic!I have recommended these products to everybody.I just want to thank Jamie because her products have made me feel a lot better about myself and my illness.
Date published: 2016-04-29
Rated

3

out of

5
by
Anonymous
from
It works but it didn't knock my socks off!
I was really hoping to fall head over heels for this product, and it's okay, it's just not the the full proof product I was hoping it would be. The coverage is good, don't get me wrong, and I love the SPF factor, it just doesn't go on as smooth and even as it looked on the infomercial. It streaks on me and in order to get the full, flawless coverage I saw on TV, I have to put on way too much of it and it feels heavy to me. The one thing I do appreciate about it, it does not come off on clothes when I hug someone, so that is AWESOME!
Date published: 2016-05-12
Rated

5

out of

5
by
tsmokey99
from
Extremely satisfied
I bought this after watching qvc one night and after watching many infomercials about this product. I suffer from rosecea and i always look like I'm embarrassed because of my severely red cheeks. After 1 use i was hooked. People started asking me what I'm doing to my skin because they say I don't look my age of 49. I've taken pictures of both cheeks... one natural looking... one with ITcosmetics... and now when anybody asks...i show them the proof. Proof is in the pictures they say! Can't wait to get my next batch. Thank you ITCOSMETICS!!
Date published: 2017-01-16
Rated

4

out of

5
by
Anonymous
from
LOVE "it"!
Very happy with products, with the exception of the eyeliner. The Navy Blue pencil( black one is fine) is like a Crayola crayon....literally...like trying to use a child's crayon for an eyeliner. The product DOES NOT transfer to the skin...it tugged and pulled and transferred no color to my eyes...at all. I think an actual hard wax crayon would transfer to the skin better. That being said, I love the foundation, bronzer, and the concealer. Have reordered and customized my kit. Customer service department is amazing...BTW. overall great experience.
Date published: 2016-04-21
Rated

5

out of

5
by
Anonymous
from
Love products
I am 46 years old and IT makeup really hides spots & wrinkles without looking made up or feeling like I have heavy makeup on. I get many compliments on my makeup and often get told I don't look my age. THIS DID not happen before I began wearing IT Bye-Bye foundation. I love the Vitality disk and Vitality lip finish. It gives a complete look. Also I e the Radiance Ilumminator it adds a glow and freshness that my skin needs!! I have turned everyone on to this makeup even my hairdresser who is hip in every way!! Can't say enough. So impressed!!
Date published: 2016-04-24
Rated

5

out of

5
by
Anonymous
from
Honest Cosmetics
It cosmetics has great ads, but the best part is : it's all true. I happened to end up with a back eye just before receiving my kit. I used the concealer in hopes of hiding my black eye. It was amazing - it completely disappeared. Next was the foundation which completely covered any other blemishes and blended perfectly with the concealer. No heavy sticky mess - it feels like you have no make up on at all. Very happy with IT
Date published: 2016-05-17
Discover
it.

Love

it.

Believe

it.

™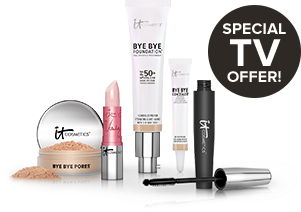 IT

is Clinically-shown, Skin-Loving,
Problem Solutions for Your Most Beautiful You.

Bye Bye Foundation™ users, in just 10 days...
96%

saw softer, smoother looking skin

85%

saw reduction on visible wrinkles and improvement in skin texture

77%

saw smaller looking pores