About

IT
meet jamie,Founder - IT Cosmetics ™
As a news anchor in my 20s, I wanted SO badly to have camera-ready skin – but hereditary rosacea, hyperpigmentation and under-eye circles made my time in the makeup chair a major challenge. I tried every formula on the market, struggling to find something that covered my perfections without caking, creasing, cracking...and making me look 10 years older! I knew there had to be a better way.
I founded IT Cosmetics™ because I truly believe that every woman deserves to feel her MOST beautiful every day. So how is IT making that happen? Unlike many cosmetics, which have a pinch of skincare added as an afterthought, our formulas all begin as cutting-edge skincare -THEN we add high-performance pigments and protectants for weightless, ultra-buildable coverage.
Your real beauty inspires me!
Jamie Kern Lima
The
BIG

Reveal

Inspired by her own skin issues, former news anchor-Jamie Kern Lima-didn't set out to just make better beauty products, Jamie created an entirely new standard of beauty. She tapped into something universal, and inspired a movement.
I believe every woman is beautiful and I believe every woman deserves to look and feel your most beautiful. IT's not just about concealing, IT's about revealing your most beautiful you and your most beautiful skin ever!
You deserve IT!
IT

IS...

Developed with leading plastic surgeons, IT Cosmetics™ creates clinically shown, innovative, problem solving color cosmetics and skincare products that harness cutting-edge technologies and high-performance, skin-loving ingredients to provide you with serious beauty solutions designed to give you the power to look and feel your most beautiful! It's your beauty, but better.

Discover IT. Love IT. Believe IT.™
IT

Accolades
Brow Power™
Universal EyeBrow Pencil

Independent Cosmetic Manufacturers
and Distributors (ICMAD)

CITY Award for Color Cosmetic Product

NewBeauty Magazine

The Best Eyebrow Pencil

Total Beauty Awards

Best Brow Enhancer- Editors' Pick

Bye Bye Pores™
Anti-Aging Micro Powder

Be! Magazine

Editor's Choice

Second City Style Beauty Olympics

Best Loose Powder

BestCovery.com

Best Face Finishing Powder

Vitality Lip Flush
4-in-1 Reviver Lipstick Stain

Total Beauty Awards

Best Lipstick - Editors' Choice

ALLURE.com

Editors' Favorite - Week of 2/20/12

Hello Lashes™
5-in-1 Mascara

Be! Magazine

Editors' Choice

Independent Cosmetic Manufacturers
and Distributors (ICMAD) "Packaging"

Finalist
---
* Allure, BE Entertained Magazine, Bestcovery, Independent Cosmetic Manufacturers and Distributors (ICMAD), NewBeauty, Second City Style and Total Beauty are proprietary properties of their respective owners. Nothing on this website is intended to convey an affiliation with, or an expressed or an implied enforcement of IT Cosmetics™ by the above entities, their owners, or parent companies or affiliated entities.
Discover
it.

Love

it.

Believe

it.

™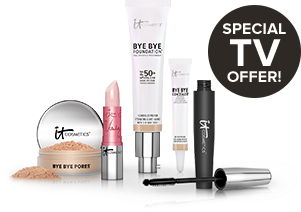 IT

is Clinically-shown, Skin-Loving,
Problem Solutions for Your Most Beautiful You.

Bye Bye Foundation™ users, in just 10 days...
96%

saw softer, smoother looking skin

85%

saw reduction on visible wrinkles and improvement in skin texture

77%

saw smaller looking pores