Your Products
BROW POWER
™
Universal Eyebrow Pencil
BROW POWER
™
Brow Power™ is formulated in a universal shade that matches every hair color, based on how hard you press, and even covers gray. Plus, it's infused with a blend of brow conditioning ingredients. It's your brows, but better!
PRODUCT BENEFITS
Universal shade adjusts to every hair color — from lightest blonde to auburn to salt-and-pepper to darkest brunette

Created to look like real hair
HOW TO APPLY
IT
The start of your brow should line up directly with the edge of your nose.
Your brow should end in line with the corner of your nose and the outer corner of your eye.
Your brow arch should be in line with the outer edge of your iris.
This brow pencil is designed to match all hair colors; use lighter strokes for blonde and silver hair, and press harder for darker hair. Easily covers gray.

After you have achieved the shape and color you want using the guidelines above, gently brush through brows with the spooled end for a natural finish.
Discover
it.

Love

it.

Believe

it.

™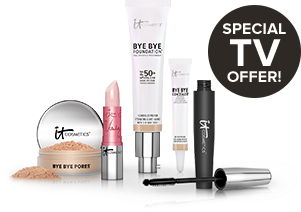 IT

is Clinically-shown, Skin-Loving,
Problem Solutions for Your Most Beautiful You.

Bye Bye Foundation™ users, in just 10 days...
96%

saw softer, smoother looking skin

85%

saw reduction on visible wrinkles and improvement in skin texture

77%

saw smaller looking pores