Your Products
NO-TUG
™
Waterproof Gel Eyeliner
NO-TUG
™
The NO TUG™ gel eyeliner glides on saturated, rich color without tugging on your delicate eyelids! Formulated with anti-aging, high-end skin care ingredients, like hydrolyzed silk, collagen and antioxidants.
It's your NO TUG™, silky, anti-aging eyeliner!
PRODUCT BENEFITS
Designed for smooth application on both inner & outer rims & lash line

Paraben-free, fragrance-free, sulfate-free

Remove with any waterproof makeup remover
black-brown
brown
plum
silk taupe
black
HOW TO APPLY
IT
Use to define the inner/outer rims of your eyes, or use above or below your lash line.
FINE: Draw a line as close to your upper and/or lower lashes as possible. Create a flattering eye shape, extend the line slightly at the outer corner.
SMOKY: Apply as above, then use a small brush or cotton swab to smudge liner before it sets.
Discover
it.

Love

it.

Believe

it.

™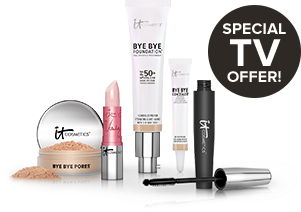 IT

is Clinically-shown, Skin-Loving,
Problem Solutions for Your Most Beautiful You.

Bye Bye Foundation™ users, in just 10 days...
96%

saw softer, smoother looking skin

85%

saw reduction on visible wrinkles and improvement in skin texture

77%

saw smaller looking pores