Your Products
LIVE, LAUGH, LOVE VITALITY FACE DISC
Anti-Aging Matte Bronzer, Brightening Blush Tint & Radiance Illuminator
LIVE, LAUGH, LOVE VITALITY FACE DISC
This anti-aging powerhouse trio adds warmth, brightness & the look of light to your complexion! This is your luxe, high-performance, anti-aging matte bronzer, illuminating powder & blush stain, all-in-one. Packed with skin-loving vitamins & antioxidants plus it's highly pigmented, so a little goes a long way. Formulated to diffuse the look of lines and wrinkles, while adding a healthy glow.
PRODUCT BENEFITS
Helps define assets and diminish flaws

Light-boosting pigments, for luminous skin

Can also be used as an eye shadow trio
HOW TO APPLY
IT
BRONZER: Begin by sweeping the bronzer over the spots on your face where the sun naturally hits—your nose, across your forehead, the front of your chin and high on your cheekbones. For a slimming effect, sweep directly under cheekbone, from outer temple to outer corner of lip, on both sides.
BLUSH: For a healthy flush of color, apply blush by simply smiling, then lightly buffing color in a circular motion onto the apples of your cheeks.
ILLUMINATOR:
To add a youthful, lit-from-within glow, lightly dust illuminator over the areas of your face that you wish to highlight or appear lifted—such as the center of your forehead, just above your cheek and brow bones, or straight down the bridge of your nose (this will also add a natural slimming effect).
HERE'S AN

IT

TIP:
See illustration for how to put on makeup & correct color placement. Remember, the 3 shades are very visible on the chart, but they should look sheer and seamless on your face. All 3 shades are highly pigmented, so a little is all you need!
Discover
it.

Love

it.

Believe

it.

™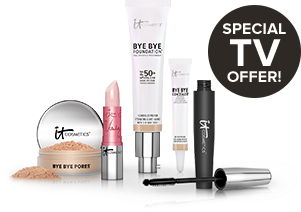 IT

is Clinically-shown, Skin-Loving,
Problem Solutions for Your Most Beautiful You.

Bye Bye Foundation™ users, in just 10 days...
96%

saw softer, smoother looking skin

85%

saw reduction on visible wrinkles and improvement in skin texture

77%

saw smaller looking pores