REAL USERS

/

Real Results
IT Cosmetics™ anti-aging, high-performance, full-coverage products are designed to truly give you your most beautiful skin ever. Solving beauty problems, making life easier, helping you look and feel YOUR most beautiful…that's what IT Cosmetics™ is all about!
Check out these IT Girl® before and after results:
Discover
it.

Love

it.

Believe

it.

™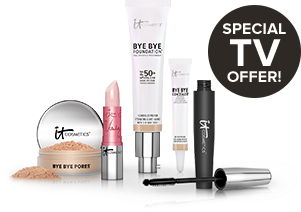 IT

is Clinically-shown, Skin-Loving,
Problem Solutions for Your Most Beautiful You.

Bye Bye Foundation™ users, in just 10 days...
96%

saw softer, smoother looking skin

85%

saw reduction on visible wrinkles and improvement in skin texture

77%

saw smaller looking pores